Secondary Mid-Span Bracket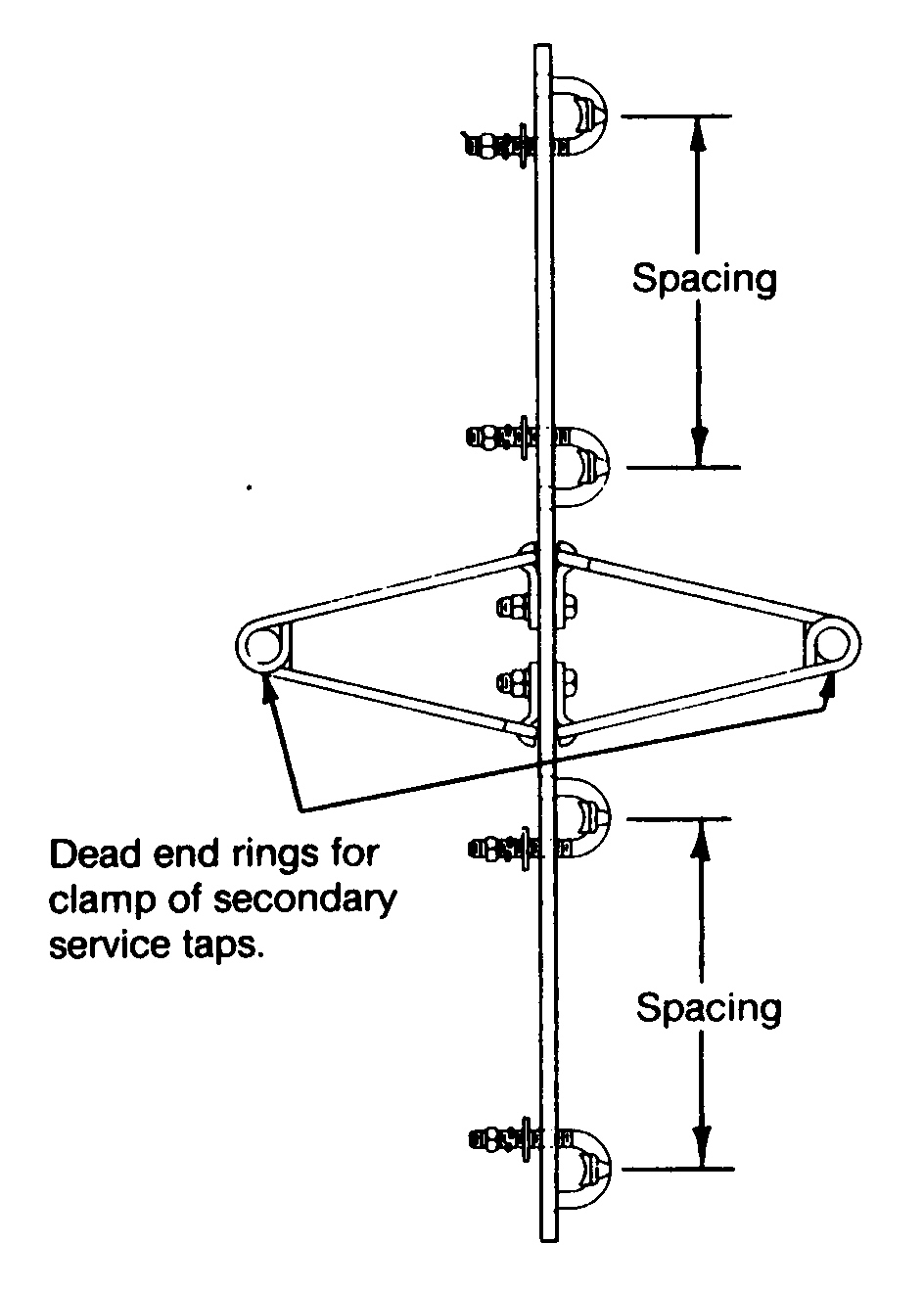 Designed for deadening triplex service to open wire secondary bus at mid-span.
FEATURES
The insulating bar of the bracket is made from high strength fiberglass reinforced polyester resin ultra-violet stabilized. All fasteners and metal components are steel hot dip galvanized. Conductor clamps are aluminum.
Conductor clamps are captive swing-away type easy installation.
Minimum wet dielectric test value of the insulating bar is 25 kv per inch.
Brackets are shipped with pull rings folded flat for easy storage. Standard package is quantity 10.
| | | | | |
| --- | --- | --- | --- | --- |
| CATALOGUE | MAXIMUM | NUMBER OF | SPACING | NUMBER OF |
| NUMBER | CONDUCTOR | CONDUCTORS | INCHES | SERVICE TAPS |
| MSB3-2/0M | 2/0 | 3 | 8 | 2 |
| MSB3-477M | 477 | 3 | 8 | 2 |
| MSB31-2/0M | 2/0 | 3 | 8 | 1 |
| MSB31-477M | 477 | 3 | 8 | 1 |
| MSB4-2/0M | 2/0 | 4 | 8 | 2 |
| MSB4-477M | 477 | 4 | 8 | 2 |
| MSB41-2/0M | 2/0 | 4 | 8 | 1 |
| MSB41-477M | 477 | 4 | 8 | 1 |
| MSB5-2/0M | 2/0 | 5 | 8 | 2 |
| MSB51-2/0M | 2/0 | 5 | 8 | 1 |
| MSB-310-2/0M | 2/0 | 3 | 10 | 2 |
| MSB-313-477M | 477 | 3 | 13 | 1 |